Recommended to you by the librarians of the Société de Lecture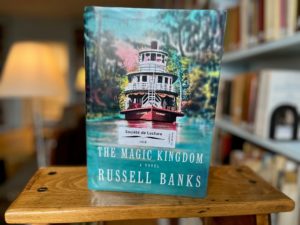 Russell BANKS, The Magic Kingdom (LHC 1500)
A few months before his death, Harley Mann, a semiretired speculator, told his story to a tape recorder. Fifty years later, Russell Banks found the abandoned box of reels in the basement of the St. Cloud, Florida, public library. He transcribed and edited them into this story. It is the story of a lost "magic kingdom", that of the Shakers' New Bethany colony in Narcoossee, at the headwaters of the Everglades, in Florida. After the death of their father, a Ruskinite, twelve-year old Harley, his siblings and their mother follow Elder John Bennett, from the Rosewell plantation in Georgia, to New Bethany. Though he does not adhere to the Shakers' faith, Harley embraces their peaceful idealism, especially after the horrors his family has endured as virtual slaves on the plantation. He will fall in love, he will betray, and, ironically, he will end up being instrumental in "the fall of one magic kingdom and the rise of another" : Disney's Magic Kingdom. As Harley, "the real Russell Banks" died shortly – at the same age of 82 – after the publishing of this – sadly last – book. Hesaid there were "many unsettling parallels and resemblances between my own story and Harley Mann's". Through the historical and fictional account of the Shakers' search for a utopian society, he writes a personal "melancholy account of his life and times". 
BORROWING
Online catalogue
Open shelf access
Borrow books during Société de Lecture opening hours
Limit of 8 books per person at one time
Loan period: 15 days (new books) or 1 month (general collection).
Extensions can be requested by email at bibliotheque@societe-de-lecture.ch or by phone : 022 310 67 46
Reserve books: at the loan desk, by email, by phone or through the online catalogue
Books sent by post on request (at the member's expense)
Connecting readers with the library:
the Reading Committee
The Société de Lecture is exceptional in many ways, including how it selects new books – a responsibility that, for many decades, has been entrusted to a Reading Committee of 12 to 15 members of the Société. Each committee member reads three to five books per month, and writes short critical reviews of each one, before collectively deciding which ones to purchase for the library. Around 30 of these reviews are published in each issue of our monthly magazine, Plume au Vent. This group of dedicated volunteers find time in their busy schedules to perform this demanding task, with equal parts enthusiasm and modesty.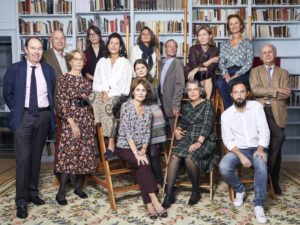 Reading Committee members:
Christian Buenzod (Chairman), Bruno Desgardins, Pascale Dhombres, Jacques-Simon Eggly, Catherine Fauchier-Magnan, Fadiah Haller-Assaad, Tatiana Hervieu-Causse, Hélène Leibkutsch, Sharon Mordasini, Soussan Raadi-Djalili, Jean-Bernard Rondeau, Petr Shmatenko, Dominique Thouvenin and our librarians Maxime Canals, Christiane Bernadac and Marie Merminod